Breast augmentation surgery is done to increase the size of a woman's breasts. The procedure involves surgically placing implants under the breast tissue or chest muscles. Clients have a variety of reasons for this procedure, including restoring volume lost after pregnancy or weight loss to rectify breast asymmetry or aesthetic purposes.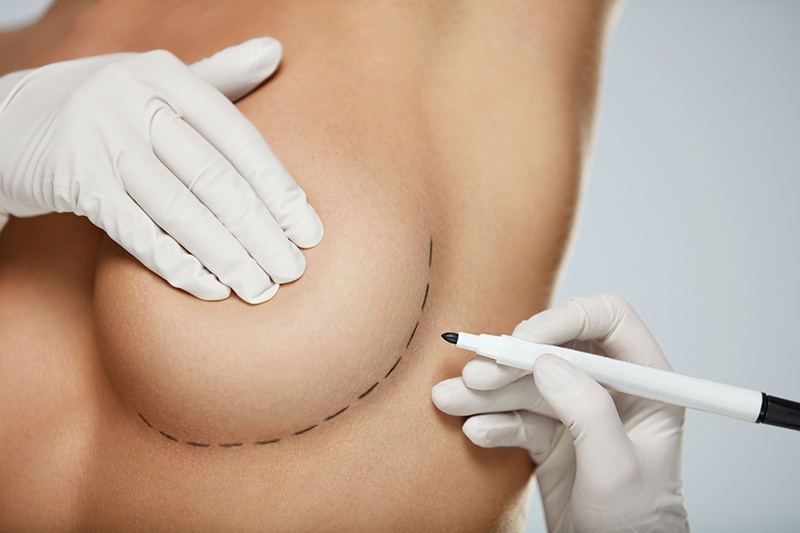 About your breast augmentation
We will first set up a consultation to explain the entire surgical procedure and complications and determine if you are suited to the surgery and what your ideal breast size is. Here, you can assess your goals, and I will cater to your individual needs.
These are a few of the questions covered during your consultation.
1. Which implant is best for you?
Silicone or Saline?
Textured or Smooth?
Round or Anatomical? (teardrop shape)
Generally, I prefer to use round, textured silicone implants. Silicone implants tend to have a much more natural feel than saline and have proven safe in several research studies. In addition, textured implants have been found to have minor complications in the long term, particularly with a condition known as capsular contracture, whereby scar tissue becomes stiff and contracts.
2. How big should you go?
Two factors determine the size of your new breasts:
Your own desires.
The natural constraints of your own tissues
I will take detailed measurements of your current breast size and skin envelope and analyse your fat and breast tissue to determine the most appropriate size.
3. Where will the scar be?
Four main approaches can insert breast implants. I typically prefer the scar in the inframammary fold where it is well hidden. Research has shown less chance of infection with this incision, and bleeding is much easier to control. Occasionally, I use the periareolar approach, but this is only in very particular circumstances, such as a redo operation where this approach has been used before.
4. Where will the implant be in relation to the muscle?
Implants are placed either above or underneath the chest muscle. The decision is based on how much breast tissue you currently have and how active you are in using those muscles. The more breast tissue you have before the operation, the less chance of seeing the implant edge. If you have a low weight, I recommend going underneath the muscle.
Start your journey today by contacting us for a consultation here.
---
21 year old female
Started out with a 32B and a left inverted nipple
Placed Motiva Demi implants under the muscle
Now a Big C cup
Also had a correction of her inverted nipple on the Left breast
Before
After